There is this lovely game going around that I saw Raised Reading participate in, and I thought I would give it a try. Basically, you are given a letter, or in my case use a random generator, and you have to answer a few questions using that letter. Sounds simple and fun, right? Let's get started. I received the letter B.
Favorite Book Starting with the Letter B:
Oh geez…I'm trying to do this from memory without glancing at my Goodreads. Oh! Before I Fall by Lauren Oliver, of course.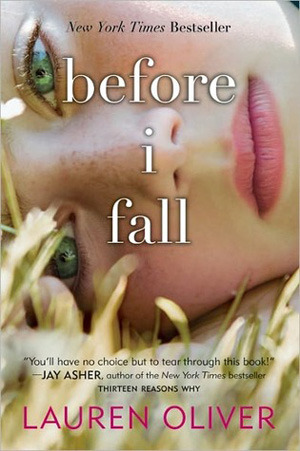 An absolute favorite. Lauren Oliver is in my small list of authors who have made me cry, and she did it with this book. A fantastic read. I recommend it to everyone. Just, fantastic. Nothing more needs to be said.
Actually, that's a lie. This is a perfect opportunity to help illustrate a point a made in a recent review I did. The main character Samantha in Before I Fall is horrible, personality wise. I did not care for her, at first. She was one of those stuck-up popular kids that gets under your skin. However, throughout the book, you learn more about her. She realizes her mistakes, you realize your own mistake in judging her, and in the end, you find yourself crying for her. In my review for a complete different book, there was a character who was also horrible personality wise, but I never had the chance to learn more about them. Instead, they grew worse and worse as the story moved on until I was completely fed up. In Before I Fall, I learned not only about Samantha but others in her life. In the other book, I learned about no one. Even if a story has a character that you would love to hate, learning about other characters around them helps you understand that character more, and it could become possible that you grow some affection for them.
Favorite Author Starting with the Letter B:
This is harder than I thought it would be. Author…Author…Okay, I had to cheat and look at Goodreads because no one is coming to my mind, but even looking did not help. I guess I'll go with Charlotte Brontë. I read Jane Eyre, and I really enjoyed it. I'm sorry, she's not a favorite but I pick her before Bram Stoker and he was the other B in my list.
Favorite Song Starting with the Letter B:
I am in love with Two Steps from Hell's "Breathe" from the Skyworld album. Absolutely in love with it.
Favorite Movie Starting with the Letter B:

Becoming Jane. What can I say? I'm a huge Jane Austen fan. I also love Anne Hathaway and James McAvoy.
Favorite Object Starting with the Letter B:
Books. I feel cheesy just typing that (and a little bit like I got a freebie). That's a given. I'll give another one as well. I don't know if this counts, but I'm going with it.
Whenever I had to pick my starter with the originals, it's always him. If I had one in real life, his name would be Bulba. My second pokemon would be Growlithe and his name would be Blaine.
I hope this was a fun little break for you all as it was for me. If you'd like me to give you a letter, leave a comment below. If you do one of these (even if you use a generator like I did), link me to it. I'd love to learn about you all. Have a great day Adventurers!