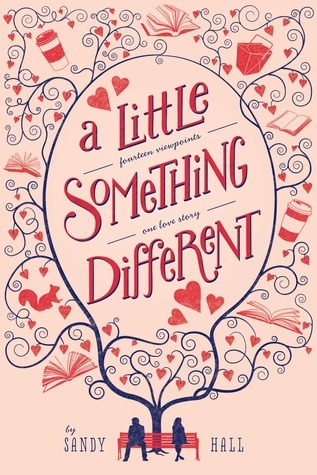 Glitch by Brenda Pandos
Perfect world. Lies. Blue eyes.

When a mysterious guy from the forbidden zone sneaks an illegal slip of paper to a beautiful young girl from Brighton, she must decide if she should turn him in or follow what the note says.

Eighteen-year-old Abigail has no trouble following Brighton's rules. For one, she's OCD about checking her Date of Death clock latched to her wrist, making sure her decisions never shorten her timeline, and two, she enjoys the peace Brighton has to offer. In no way would she bring on another attack that destroyed earth's inhabitants. But when her best friend returns from her Advice Meeting–a glimpse into the future–shocked and won't tell Abby what's happened, Abby is worried what awaits her glimpse. The stranger with blue eyes knows something, but does Abby dare enter the forbidden zone to get answers? Or is she doomed to live the life set in her glimpse?
Afterworlds by Scott Westerfeld (Release date September 23rd!)
Darcy Patel has put college and everything else on hold to publish her teen novel, Afterworlds. Arriving in New York with no apartment or friends she wonders whether she's made the right decision until she falls in with a crowd of other seasoned and fledgling writers who take her under their wings…

Told in alternating chapters is Darcy's novel, a suspenseful thriller about Lizzie, a teen who slips into the 'Afterworld' to survive a terrorist attack. But the Afterworld is a place between the living and the dead and as Lizzie drifts between our world and that of the Afterworld, she discovers that many unsolved – and terrifying – stories need to be reconciled. And when a new threat resurfaces, Lizzie learns her special gifts may not be enough to protect those she loves and cares about most.
A Little Something Different by Sandy Hall
The creative writing teacher, the delivery guy, the local Starbucks baristas, his best friend, her roommate, and the squirrel in the park all have one thing in common—they believe that Gabe and Lea should get together. Lea and Gabe are in the same creative writing class. They get the same pop culture references, order the same Chinese food, and hang out in the same places. Unfortunately, Lea is reserved, Gabe has issues, and despite their initial mutual crush, it looks like they are never going to work things out.  But somehow even when nothing is going on, something is happening between them, and everyone can see it. Their creative writing teacher pushes them together. The baristas at Starbucks watch their relationship like a TV show. Their bus driver tells his wife about them. The waitress at the diner automatically seats them together. Even the squirrel who lives on the college green believes in their relationship.

Surely Gabe and Lea will figure out that they are meant to be together….
What are you dying to read? Leave your thoughts and comments below!