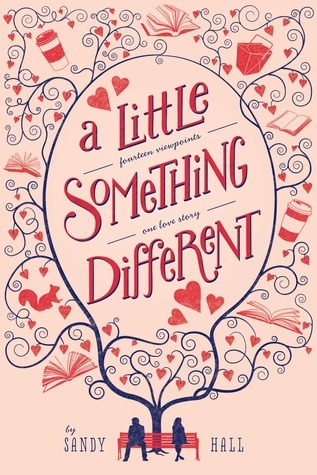 This review can also be found on my Goodreads.
Rating: 3/5 stars Reason for Reading: I loved the idea of reading a love story from the perspective of everyone around the couple, without hearing any inner thoughts from the couple themselves.
This book was cute! Like I said, the reason I wanted to read this is because it's different from many YA romances that I've read. Not once do you get Gabe or Lea's thoughts, only whatever they tell the other characters or what the other characters may think they are thinking. We even get to see how this "non-couple" couple looks like to a squirrel and a bench in the quad. From the fourteen perspectives, I think my favorites are the bus driver, Maxine the waitress, and the Starbucks barista. I found Victor, their classmate, interesting but I didn't find his actions in the later half of the book believable. Having Victor, who hates Gabe and Lea, staying around to witness their coupley moments didn't seem right. I think Victor would have removed himself from those moments, no matter if they noticed him or not. He wouldn't want to be around them for even a second longer than he had to.
Throughout the novel, you find out Gabe had been in an accident the previous New Years. I was able to guess he had been in an accident near the beginning, but it did take a while before other things became clear to me. I liked Gabe. I liked him more than Lea. After reading that the author originally had Lea as a junior in college and then changed her into a freshman for this version of the story, I wish that I had read it from junior Lea perspective. While reading, I felt Lea was a bit immature and naive, and I was not a fan of that. Like the author said in her interview, Lea has a lot of potential and junior Lea would probably have been better.
Final Thoughts:  Overall, this was a good read. I liked that one of the main characters was a person of color. I liked that everyone was shipping these two individuals and working together (without knowing it) to get Lea and Gabe to realize how perfect they are for each other. This was a fast read and perfect for when you're waiting at the mechanics for a few hours and you need something lighthearted to entertain you.