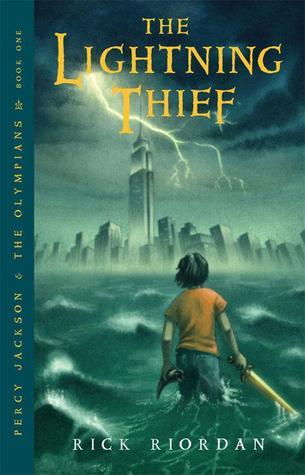 This review can also be found on my goodreads.
Rating: 4/5 stars
Reason for Reading: It's a popular series and The Blood of Olympus, the last in the overall Olympian series, came out so I thought I would start and see what it's all about.
Again, this is another book that I saw the movie first and then read the book. I was not a big fan of the movie, and I think it did keep me way from the book series. However, working at a library, I've had so many kids asking for books by Rick Riordan and they all seemed so excited and happy with it. I had to take a chance, right?
I'm glad I did. The book was a fun read. Were there things I found problematic? Yes. Still, it was a great adventure and I will continue the series.
I'm a sucker for Greek mythology, and I try to read and learn as much as I can, so this series has a major plus being filled with and adapting Greek mythology. I also thought the personalities of the gods were well done, especially Hades.
What I was hesitant about was Percy being so…powerful. He beats a Minotaur near the beginning of the story, which is a big deal. He takes on Ares and gets a win in that match too. He also beats one of the furies. Now, from many of the stories I've read, those who are demi-gods are powerful, yes, but they get a lot of help from their parents. I'm thinking a lot about The Illiad in this case. Anyway, with Percy, he does have the sword from Poseidon but still…I feel like he would need some practice, some training. Camp Half-Blood is all about training and he gets maybe two weeks and is able to take on a god. It doesn't make much sense to me, even if he is the son of one of the Big Three.
Which makes me think, is this really a test for Percy? At this rate, he appears invincible. There doesn't seem to be a challenge when it comes to his abilities. I'm hoping that with the later books that it won't seem so one-sided.
Final Thoughts: Entertaining. Fast read. Will continue the series. I ❤ Greek mythology.