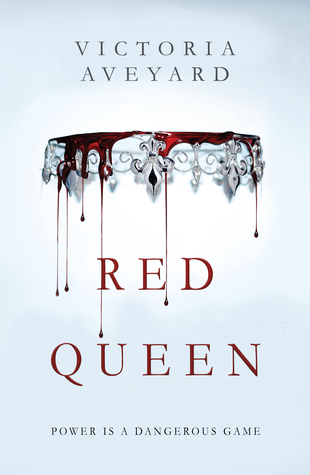 Goodreads:
The poverty stricken Reds are commoners, living under the rule of the Silvers, elite warriors with god-like powers.

To Mare Barrow, a 17-year-old Red girl from The Stilts, it looks like nothing will ever change.

Mare finds herself working in the Silver Palace, at the centre of
those she hates the most. She quickly discovers that, despite her red blood, she possesses a deadly power of her own. One that threatens to destroy Silver control.

But power is a dangerous game. And in this world divided by blood, who will win?
Reason for Reading: I saw a couple of people review it and the summary looked interesting to me.
Rating: 5/5 stars Just wow
I think I am slowly getting my groove back. Two books in a row with a 5 star rating?!
I finished this book in about three days. It was just that good. The author did a wonderful job creating the world of Silvers and Reds. I loved the different abilities the Silvers had, and I especially liked that Mare's ability is not something typical (telekinesis, telepathy, invincibility, etc.) but something that is both shocking and extremely valuable in her world.
The pacing of the story was well done. I didn't feel like anything was being rushed like Mare learning her new power or about her new role in society.
The characters were phenomenal. Mare, Cal, and Maven were great. The plot was good. I'll admit the foundations of the book is a bit common in YA, but the details and changes Aveyard does makes it stand out.
And the twist. The bloody twist! I should have seen it coming, but Aveyard did a fantastic job leading me away from thinking a certain way, making me second guess myself, and then she pulls the rug right from under me in the best way possible.
The romance in this, I have to touch on because it was well done. I'm tired of the love triangles that many YAs have nowadays. I think a love triangle can be done well, but I haven't seen it yet…but Red Queen comes pretty darn close. Although, it's not a love triangle! What Aveyard does with Mare, Cal, Maven, and her best friend (oh! a foursome), AND the fiance (five, people!) is really interesting.
I have been looking for YA fiction similar to A Song of Ice and Fire, and I've been looking for more superpower stories. This was a great combination, and I cannot wait for the sequel.