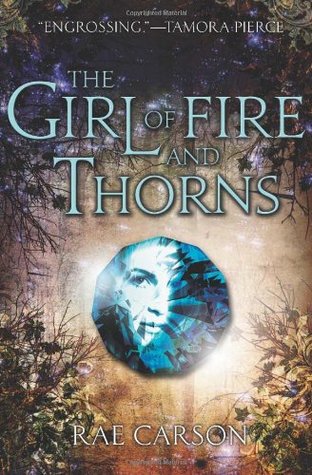 Goodreads
Once a century, one person is chosen for greatness.
Elisa is the chosen one.

But she is also the younger of two princesses, the one who has never done anything remarkable. She can't see how she ever will.

Now, on her sixteenth birthday, she has become the secret wife of a handsome and worldly king—a king whose country is in turmoil. A king who needs the chosen one, not a failure of a princess.

And he's not the only one who seeks her. Savage enemies seething with dark magic are hunting her. A daring, determined revolutionary thinks she could be his people's savior. And he looks at her in a way that no man has ever looked at her before. Soon it is not just her life, but her very heart that is at stake.

Elisa could be everything to those who need her most. If the prophecy is fulfilled. If she finds the power deep within herself. If she doesn't die young.

Most of the chosen do
Reason for Reading: I found an article recommending YA books for lovers of Game of Thrones. Out of the ones I chose to read, I decided to go with this one first because a co-worker highly recommend it.
I am so torn about this book! There are some really great positives. I love the fact that the main character is of Hispanic descent, and so are the rest of the cast! I am always looking for books with diverse characters, so this one was a breath of fresh air. Elisa is also not the typical skinny heroine either, which is a great thing for me. I don't understand why heroines or female characters in general have to be small, skinny, and delicate looking. I liked that Elisa was of a different size and she doesn't mind talking about food.
Elisa also uses her smarts and faith instead of being skilled with a sword, dagger, or with magical abilities. It's another difference from many YA books I've read, which I appreciated. This novel is highly focused around the belief in a higher being, and how people interpret things as God's plan. It was very interesting to me, and at a certain point I was wondering about everyone's motives.
I also liked that there were "real" moments in this book. I always wonder when reading adventure stories, books where the characters are on long journeys: Don't they have to go to the bathroom?! Just small details like that make a book more real to me, and I find myself immersed into the story more.
While Carson's novel has so many positives, I don't think I'll be reading the sequel. There was something missing for me, and I don't know what it was. I was definitely into the story. I finished it within five days, but once I got to the end, I knew I wasn't going to continue this journey with Elisa any longer. There's a moment near the end  that had me giving the book a confused look. It was just hard to imagine this one action, and it just turned me off from the story.
I still would recommend others to read this one. It's a good story, and it will hold your attention.
Rating: 3.5/5 stars