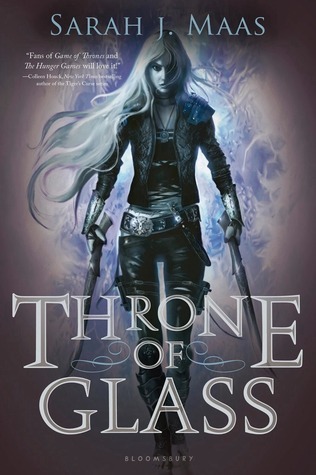 In a land without magic, where the king rules with an iron hand, an assassin is summoned to the castle. She comes not to kill the king, but to win her freedom. If she defeats twenty-three killers, thieves, and warriors in a competition, she is released from prison to serve as the king's champion. Her name is Celaena Sardothien.

The Crown Prince will provoke her. The Captain of the Guard will protect her. But something evil dwells in the castle of glass–and it's there to kill. When her competitors start dying one by one, Celaena's fight for freedom becomes a fight for survival, and a desperate quest to root out the evil before it destroys her world.
Reason for Reading: I found an article on Epic Reads that gave a list of books for fans of George R.R. Martin's A Song of Ice and Fire series (Game of Thrones who don't know). The cover looked awesome, so I checked Goodreads and it sounded awesome. Then I asked a co-worker about it and she said it was awesome. So yes, I had to read it.
This book was pretty good. More than good actually. I was hesitant at first to like Celaena. I liked that she was this strong assassin who still loved fashion and wanting to go to parties. That I liked. What I was having issues on were her initial feelings for Chaol and Dorian (a dreaded love triangle. But should love triangles be called love triangles? Maybe that's a post for a later date). Chaol is the Captain of the Guard who drags her out of this labor camp, trains her for the chance to become the King's Assassin, and doesn't really show any positive feelings to her. Yes, he'll smile or they'll talk for a while, but he'll turn cold the next day.
Dorian is the crown prince. The son of the only man who Celaena seems to fear. He's pretty cocky, and he knows everyone finds him unbelievable attractive, including Celaena. She mentions a number of times how she wants to kiss him.
This annoyed me. They were both individuals who Celaena shouldn't want to have positive feelings for, and she does too quickly. It would have been find if it didn't seem so sudden, I suppose. Would I want Celaena with either of them? I don't think so.
Plot-Wise
Interesting plot. The King is looking for someone to be his personal assassin, and he makes a tournament where higher ups, including his son, would bring in their champion to fight to be the King's Assassin. Celaena is Dorian's champion, but she is told to keep her identity a secret. Why? Because she's one of the most feared assassins and no one knows that she's a girl. So they come up with a cover story of her being a nobleman's daughter who's a jewelry thief. Doesn't sound very intimidating, does it? Yeah, Celaena wasn't happy with that either.
Then things get interesting. Something is killing the assassins one by one, ripping them to shreds and eating their organs. A queen of a rival group arrives with suspicions of helping rebels. Celaena is visited by a dead fey queen, telling her she has to become the King's Assassin and discover the dark secrets of the kingdom. By the way, did I mention magic is forbidden and that the king will kill anyone with magic?
There are so many things happening!
It's a good read, and I'm planning to read the sequels. I would give this book:
Rating: 4.5/5 stars