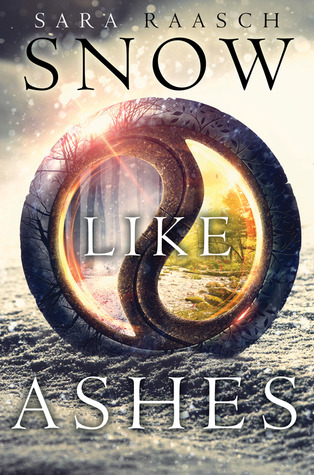 Goodreads Summary:
A heartbroken girl. A fierce warrior. A hero in the making.

Sixteen years ago the Kingdom of Winter was conquered and its citizens enslaved, leaving them without magic or a monarch. Now, the Winterians' only hope for freedom is the eight survivors who managed to escape, and who have been waiting for the opportunity to steal back Winter's magic and rebuild the kingdom ever since.

Orphaned as an infant during Winter's defeat, Meira has lived her whole life as a refugee, raised by the Winterians' general, Sir. Training to be a warrior—and desperately in love with her best friend, and future king, Mather — she would do anything to help her kingdom rise to power again.

So when scouts discover the location of the ancient locket that can restore Winter's magic, Meira decides to go after it herself. Finally, she's scaling towers, fighting enemy soldiers, and serving her kingdom just as she's always dreamed she would. But the mission doesn't go as planned, and Meira soon finds herself thrust into a world of evil magic and dangerous politics – and ultimately comes to realize that her destiny is not, never has been, her own.
My Review
It's been a little while since I read this, but I remember clearly that I thought this was a great read. I was very interested in how these kingdoms are based on the seasons. The kingdom Winter only has cold and snowy weather while the kingdom Summer is always sunny and warm, and so on. The appearance  of the characters are based on their kingdoms which makes it hard for Meira and the others to hide (since they have pure white hair compared to everyone else in Primoria. I was also interested to see how this small group of seven will take on the entire Spring kingdom in order to get their magic back and put their king back on the throne.
Characters: I wasn't disappointed with this story. I liked Meira. She was constantly trying to prove herself to others, herself, and to her fellow Winterians. At the same time, Meira doesn't feel like she belongs to Winter since she has never experienced the kingdom's snow, the traditions, the normal life of a Winterian.
If I had to choose between Mather and Theron, I'd pick Theron. He was a fantastic character, and I loved all his interactions with Meira.
The twist: I saw it coming, but not exactly how the author had made it. I won't go into details because I don't want to spoil anything. Basically, I knew something was off and I was right, but I'm glad I was right.
The ending: It was okay. It definitely leaves it open for the sequel. Some questions were answered while more questions were given. I'm definitely curious how the Winterians are going to go about life now. How are things going to be with Meira and Mather? With Meira and Theron? With Meira and being in Winter? I don't know how I feel about the villian(s) in this story. One's motive is more greed and the other is power hungry. I think I like the greedy villian more.
Overall, good story. I will be reading the sequel.
Rating: 4/5 stars