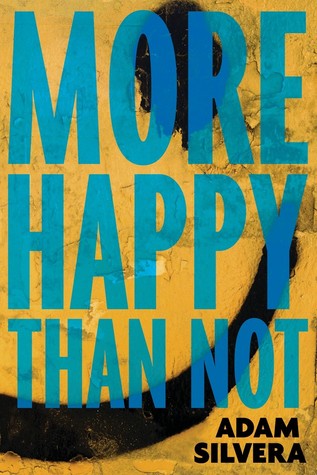 Goodreads Summary:
The Leteo Institute's revolutionary memory-relief procedure seems too good to be true to Aaron Soto — miracle cure-alls don't tend to pop up in the Bronx projects. But Aaron can't forget how he's grown up poor or how his friends aren't always there for him. Like after his father committed suicide in their one bedroom apartment. Aaron has the support of his patient girlfriend, if not necessarily his distant brother and overworked mother, but it's not enough.

Then Thomas shows up. He has a sweet movie-watching setup on his roof, and he doesn't mind Aaron's obsession with a popular fantasy series. There are nicknames, inside jokes. Most importantly, Thomas doesn't mind talking about Aaron's past. But Aaron's newfound happiness isn't welcome on his block. Since he can't stay away from Thomas or suddenly stop being gay, Aaron must turn to Leteo to straighten himself out, even if it means forgetting who he is.

Adam Silvera's extraordinary debut novel offers a unique confrontation of race, class and sexuality during one charged near-future summer in the Bronx.
Reason for Reading: I had written a short story my freshman year in college about a procedure people could get that would allow them to erase or change their memories. When I heard about this story, I wanted to see how this author did it.
This was absolutely fantastic. Just beyond fantastic. If this wasn't a mini book review, I would be gushing about this novel for hours.
I loved Aaron. He was a perfect all around character. He made me laugh, he made me angry, he made me cry. I'll say it now, this book and this author have gone on my short list of books/authors who made me cry. Well done Mr. Adam Silvera.
Aaron's struggles with his sexuality were heart-wrenching. I was supporting him every step of the way. Thomas and Genevieve were such beautiful characters as well.
The plot twist: Brilliant. Didn't see that coming. Kudos to the author for not only making me cry but throwing that down like a football in the endzone (is that a good analogy? I'm not all that familiar with football, but you all know what I mean, right?).
The writing style was fabulous. It just took me for a ride, and I didn't want to put the book down. The voices of the characters were believable. I could definitely hear teens saying these things and in that manner. Overall…well, you can tell I love this book. I'm very upset because I missed an opportunity for a book signing because of work. Do you understand how much that killed me?!
One day when I have time (I've been so busy!) I will write a review this book deserves.
Rating: 5/5 stars
Read June 11-15, 2015