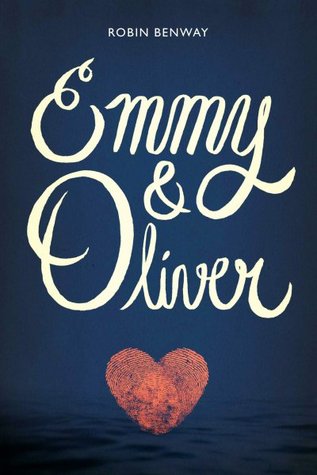 Goodreads Summary:
Emmy just wants to be in charge of her own life.

She wants to stay out late, surf her favorite beach—go anywhere without her parents' relentless worrying. But Emmy's parents can't seem to let her grow up—not since the day Oliver disappeared.

Oliver needs a moment to figure out his heart.

He'd thought, all these years, that his dad was the good guy. He never knew that it was his father who kidnapped him and kept him on the run. Discovering it, and finding himself returned to his old hometown, all at once, has his heart racing and his thoughts swirling.

Emmy and Oliver were going to be best friends forever, or maybe even more, before their futures were ripped apart. In Emmy's soul, despite the space and time between them, their connection has never been severed. But is their story still written in the stars? Or are their hearts like the pieces of two different puzzles—impossible to fit together?

Readers who love Sarah Dessen will tear through these pages with hearts in throats as Emmy and Oliver struggle to face the messy, confusing consequences of Oliver's father's crime. Full of romance, coming-of-age emotion, and heartache, these two equally compelling characters create an unforgettable story.
My Reason for Reading: This was one of the new June releases that I wanted to read. The storyline seemed interesting to me. I also am trying to read more contemporary fiction since I read a lot of fantasy.
Review
I liked this story. It wasn't perfect, but I liked it. Emmy, Drew, and Caro as a trio were great. I liked their friendship dynamic and their conversations were fun and entertaining. As individuals, I liked Drew the most, then Caro, then Emmy. See the problem here?
Drew's story…I wanted to know what was going to happen with his family. Drew had come out to his parents the previous year and they were "accepting." I put this in quotes because they said they were, but they couldn't admit it in public. They looked at Drew differently, and he knew this. He wasn't the same son to them anymore. When he wants to invite his new boyfriend to a family event, they tell him no. The reason (which I don't want to spoil), well, I was with Drew. Their reasoning was poor and unjust to Drew and it showed how important Drew really was to them. By the end of the story, his subplot is left open-ended. I wish I had some closure or clue how things were going to go for him.
Caro continued to mention that her parents ignored her since she was the 6th of 6 children. She even said that her parents should have stopped at 5. Still, we didn't get any closure with Caro's story either. I liked her because her reactions were real. When Emmy was neglecting their friendship for her new relationship, Caro was hurt and she showed it.
Emmy & Oliver Romance: Ehh…It was okay. I liked Oliver. He was in a really tough situation, and I felt for him. He has had to start his life over twice now, and he's confused on who he is, who everyone else are, and what he should be doing. His relationship with Emmy, I think it started too soon. They were together within 2 months I believe. I sort of wish this was a story more on their friendship, Oliver and Emmy's coming of age, and Oliver's struggle between his life before and after the kidnapping.
Overall, because I liked the storylines for Drew, Oliver, and Emmy with her surfing and college, I still give this book a high rating.
Rating: 4/5 stars
Read from July 5-9, 2015