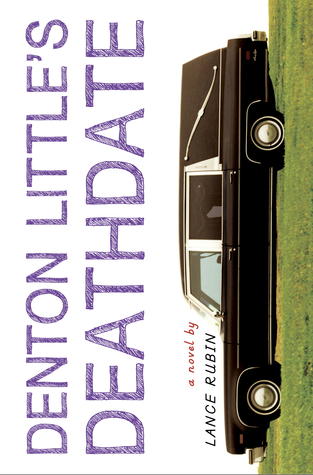 Goodreads Summary
Denton Little's Deathdate takes place in a world exactly like our own except that everyone knows the day they will die. For 17-year-old Denton Little, that's tomorrow, the day of his senior prom.

Despite his early deathdate, Denton has always wanted to live a normal life, but his final days are filled with dramatic firsts. First hangover. First sex. First love triangle (as the first sex seems to have happened not with his adoring girlfriend, but with his best friend's hostile sister. Though he's not totally sure. See: first hangover.) His anxiety builds when he discovers a strange purple rash making its way up his body. Is this what will kill him? And then a strange man shows up at his funeral, claiming to have known Denton's long-deceased mother, and warning him to beware of suspicious government characters…. Suddenly Denton's life is filled with mysterious questions and precious little time to find the answers.

Debut author Lance Rubin takes us on a fast, furious, and outrageously funny ride through the last hours of a teenager's life as he searches for love, meaning, answers, and (just maybe) a way to live on.
My Reason for Reading: A coworker of mine suggested the book, and it seemed interesting.
Review
Holy crapola. I did not expect this book to be this good. It's hilarious. It's thought provoking. It's mysterious. It's got the romance, the comedy, the action, the feels…Just everything. It's a story I can see myself recommending to people.
Characters: Denton Little was the perfect character for me, the reader, to go through this journey with. What I mean is, he's the perfect character to use to understand this world. The author had me liking Denton from the start. Although I was upset with him when it looked like he had cheated on his girlfriend, but new information came to light and I still liked Denton. His best friend Paolo is just amazing. The guy is just hilarious and loyal to his friend. I loved him and I'm sad knowing he's going to die a month after Denton. The kid is a real charmer.
There are obviously more characters like Taryn (she cried a lot. Understandable since her boyfriend is dying, but…a  lot), Millie (weird girl that gives me Luna Lovegood feels. I liked her), and Veronica (does she or does she not like Denton?), but my two favorites are Denton and Paolo.
The Twist: I was thinking it was all just a crazy conspiracy from a crazy random guy, but holy crapola was it real. The last 50 or so pages, the pages were flying as I tore through the book. So much was happening. And it turns out, this book isn't a standalone.
When my coworker mentioned the book, I don't recall him saying it was going to be part of a series. But yeah, it is.
How do I feel about that? I don't know. I don't want to go into detail because I'm trying to not give out any spoilers.
Overall: Excellent book. Had me dying with laughter. The bromance with Denton and Paolo was just too great.
Rating: 4.5/5 stars (Not a perfect score only because I'm not sure how I feel about it having a sequel)
Reading Dates: July 8-12, 2015