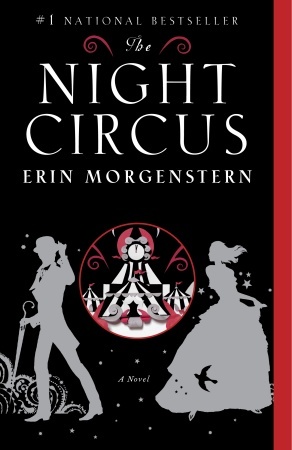 Publisher: Anchor (Imprint of Random House)
Published Date: 2012
Genre: fiction, fantasy, magical realism
My Source: Library–>Now Own
Links: Goodreads
Goodreads Summary:
The circus arrives without warning. No announcements precede it. It is simply there, when yesterday it was not. Within the black-and-white striped canvas tents is an utterly unique experience full of breathtaking amazements. It is called Le Cirque des Rêves, and it is only open at night.

But behind the scenes, a fierce competition is underway: a duel between two young magicians, Celia and Marco, who have been trained since childhood expressly for this purpose by their mercurial instructors. Unbeknownst to them both, this is a game in which only one can be left standing. Despite the high stakes, Celia and Marco soon tumble headfirst into love, setting off a domino effect of dangerous consequences, and leaving the lives of everyone, from the performers to the patrons, hanging in the balance.
My Review
Characters
There are so many characters that I love, that I want to write, "All of them. They're all my babies." Granted, it's not 100% true, but it's pretty darn close. The MCs, Celia Bowen and Marcus Alisdair, are wonderful. I enjoyed reading about their lives, their childhoods, their connection with each other. The author did a wonderful job separating them by personalities and experiences but making them so similar that they're like 2 puzzle pieces coming together at last. The twins, Poppet and Widget, and Bailey were a great trio. I believed they could become fast friends, and Bailey's wish to find Poppet and the circus was pulling at the heartstrings a little. Tsukiko was awesome. I did not know she had that type of role in the story, but I knew there was something about her. I couldn't put my finger on it. And of course, the masterminds of the challenge. Villains in different ways, and I loved it. What makes it better is knowing the relationship between the two. There are more characters I could talk about (Ethan, Tara, Lainie, Madam Padva, Herr Friedrick Thiessen), but I don't want this review to be too long.
Plot
This was not just a love story. To me, this was a story about how our lives connect with so many others. How much they influence our own and our actions. The challenge element was fantastic, and I enjoyed the magical realism (I don't read much in this genre. I should change that). Reading how they hid their magic behind other circus workers, technology, and the mystical mystery of the circus was brilliant. I could imagine every tent that Celia and Marcus created. The tension of what the challenge entailed, who was going to win, and how were nail-biting worthy. And finally, the love between the MCs was well done. Their affection grew overtime and I believed they really did love each other. There were great twists, and this was more of a journey. So if you're looking for a fast read, this one might not be it. However, if you're looking for a book that will draw you in and refuse to let you go, this is the one.
The author's writing style is simply amazing. She described everything beautifully and easy to imagine. The dialogue was right on point. The world she created was stunning, and I wish I could visit The Night Circus myself.
Rating: 5/5 stars