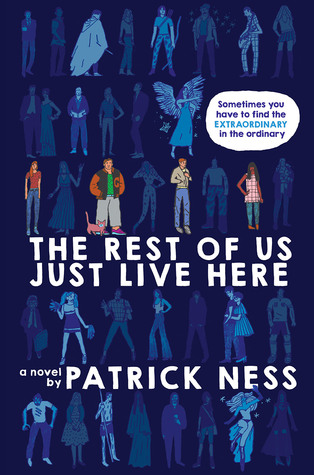 Publisher: Harper Teen
Published Date: 2015
Genre: YA, fantasy, contemporary
My Source: Library
Links: Goodreads
Review Also On: Amazon and Goodreads
Goodreads Summary:
What if you aren't the Chosen One? The one who's supposed to fight the zombies, or the soul-eating ghosts, or whatever the heck this new thing is, with the blue lights and the death?

What if you're like Mikey? Who just wants to graduate and go to prom and maybe finally work up the courage to ask Henna out before someone goes and blows up the high school. Again.

Because sometimes there are problems bigger than this week's end of the world, and sometimes you just have to find the extraordinary in your ordinary life.

Even if your best friend is worshipped by mountain lions.

Award-winning writer Patrick Ness's bold and irreverent novel powerfully reminds us that there are many different types of remarkable.
My Review
Characters
I loved loved loved Mike. He was beautiful, and I couldn't get enough of him. I just wanted to wrap him up as a blanket burrito and just smother him with hugs. Mike is the narrator and he really just wants to be a normal kid, having a normal last few months with his friends before graduating. He has a lot going on with him too. He has obsessive compulsive disorder, his sister Mel is recovering from a eating disorder, his father's a drunk and never there for the family, his mother is a politician, he's in love with his friend Henna, his best friend Jared is 3 parts Jewish and one part God…The list goes on.
What I loved about Mike was his selflessness. He is constantly stuck in loops because of his disorder, and he hates it. He hates what it does to him, and he feels like a burden. But he's there for everyone he cares about, no matter the issue. I just wanted to protect Mike.
I loved Jared almost as much as I loved Mike. I don't want to get into too much because, no spoilers, but he was an absolute delight. I did get angry with him. I was angry with everyone for holding a secret from Mike, but I still love him.
I could not stand Henna. I'm sorry but I felt like she was dragging Mike along. She knew he loved her, and she doesn't say she feels the same but wants to "experiment" and kiss him? To me, she acted like she knew Mike would do anything for her and in some cases she would take advantage of that. I think the best moment to describe this is near the end when Mike is hurt by everyone, and Henna comes asking for a ride home. Mike says no, and the next line was "She waited. 'Yes,' he said." It frustrates me! She talked about having feelings for Nathan all the time, knowing Mike's feelings. And then getting frustrated that he was feeling jealous. Hello! You keep pulling him close and then pushing him away. You gave me the thought he may have a chance. So rude.
Plot
Interesting. I was interested because it was the story of the kids who aren't the heroes. Who are not trying to save the world. It had a nice combination of fantasy and life-in-high-school contemporary. I was enraptured with the relationship between Jared and Mike. All I can is when Mike said
"That's all I ever really wanted to know," 
to Jared, that's when I started balling my eyes out. So congrats Mr. Ness, you are number 5 on the list of authors to make me cry.
Mike's struggle with his compulsions, and how he was dealing was well done. His struggles with his family were perfect. The "indie kids'" (the heroes, the one's who are always up to something) storyline was fun because we would only get a paragraph of what was happening in their world each chapter, and then the rest of the chapter was how it affected the lives of the non-indie kids.
But I think you can tell that the Mike and Jared story stole the show for me. I did love the relationship between the siblings: Mike, Mel, and Meredith. Just really well done.
Overall, nice story. I would recommend this one. Was it perfect? No, but it was a fun read.
Rating: 3/5 STARS