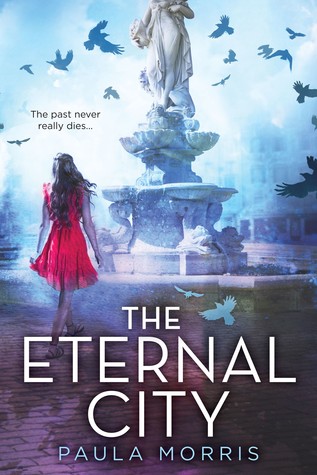 Publisher: Point/Scholastic
Published Date: 2015
Genre: Young Adult, Fantasy, Mystery
My Source: Library
Links: Goodreads
Review Also On: Goodreads
Goodreads Summary
From master of suspense Paula Morris comes a tale of gods and goddesses, thrilling romance, and mystery set in present-day Rome.

Laura Martin is visiting Rome on a class trip, and she's entranced by the majestic Colosseum, the Trevi Fountain, the Pantheon. . . . Everything in this city seems magical.

That is, until the magic seems to turn very dark.

Suddenly, statues of Cupid and ancient works of art come to life before her eyes. Earthquakes rumble and a cloud of ash forms in the sky. A dark-eyed boy with wings on his heels appears and gives her a message. Laura soon realizes she is at the center of a brewing battle — a battle between the gods and goddesses, one that will shake modern-day Rome to its core.

Only she and her group of friends can truly unravel the mystery behind what is happening. As tensions mount and secret identities are revealed, Laura must rely on her own inner strength to face up to what may be a fight for her life.
My Review
Characters
I think the characters I liked the most were Maia and Sofie. Maia was more of the quiet know-it-all who happened to also be toughest of them all. She was a bit of a strategist, a planner, the one Laura seemed to turn to. Sofie was more self-centered and a bit snobby. But she was helpful when she needed to be, and I liked reading about her and her interactions with Laura and Maia.
Wasn't really a fan of Laura (I'm having an issue with main characters lately). She took too long figuring things out, things I thought were very obvious. She also just seemed a bit…helpless.
The boys, Dan, Kasper, and Jack were not all that great. Jack was my favorite. I liked his happy-go-lucky attitude. Dan and Kasper's "rivalry" got a bit annoying after a while. If I had to choose, I guess I would say I was Team Kasper, but he barely won that honor.
Plot
This story was not what I expected, and I'm not saying that's a good thing. Reading the summary, I was expecting more along the lines of Percy Jackson. That's what I wanted! I wanted real battles, gods and goddesses charging at each other, waves crashing, lightning flashing, hell rising from the ground below.
I didn't get any of that.
Instead I got a group of teens (who are not friends by the way. They're basically strangers) traveling around Rome in an ash cloud. Yes, statues and paintings come to life, but the battle is really only between them. Laura isn't really part of this war. Mostly animals are attacking her and the others while they are trying to leave Rome as quickly as possible.
I thought the boy with the "wings on his feet" was going to be a main character, but he wasn't really.  I just felt that I didn't get what I expected out of this book. I don't want to say the summary was misleading, but it definitely had me thinking one plot and I read another.
Rating: 1.5 / 5 STARS