Maybe this will be a monthly thing for me, but I definitely needed to do it for this month.
I'm sure everyone knows of The Star-Touched Queen or The Raven King which are coming out this month. Still, there are tons of other books that are releasing in April that I didn't hear about until today.
So, I thought I'd share the ones I added to my TBR. First, thanks to this B&N Teen blog post that introduced me to these books. Summaries are from Goodreads and clicking the links will send you to their Goodreads page.

The End of Fun by Sean McGinty – April 5
Everyday reality is a drag™.
FUN®—the latest in augmented reality—is fun but it's also frustrating, glitchy and dangerously addictive . Just when everyone else is getting on, seventeen-year-old Aaron O'Faolain wants off.
But first, he has to complete his Application for Termination, and in order to do that he has to deal with his History—not to mention the present, including his grandfather's suicide and a series of clues that may (or may not) lead to buried treasure. As he attempts to unravel the mystery, Aaron is sidetracked again . . . and again. Shadowed by his virtual "best friend" Homie, Aaron struggles with love, loss, dog bites, werewolf pills, community theater, wild horses, wildfires and the fact (deep breath) that actual reality can sometimes surprise you.
Sean McGinty's strikingly profound and laugh-out-loud funny debut unearths a world that is eerily familiar, yet utterly original. Discover what it means to come to the end of fun.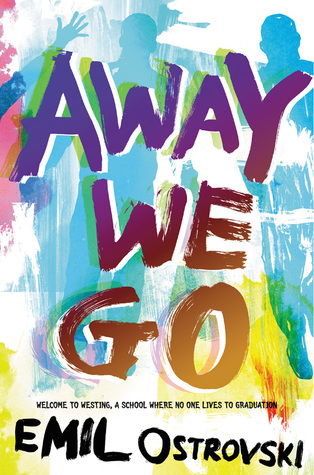 Away We Go by Emil Ostrovoski – April 5
Westing is not your typical school. For starters, you have to have one very important quality in order to be admitted—you have to be dying. Every student at Westing has been diagnosed with PPV, or the Peter Pan Virus. No one is expected to live to graduation.
What do you do when you go to a school where no one has a future? Noah Falls, his girlfriend Alice, and his best friend Marty spend their time drinking, making out, and playing video games on awaywego.com. But when an older boy named Zach (who Noah may or may not be in love with) invites Noah and Marty to join his secret Polo Club, the lives of both boys change as they struggle to find meaning in their shortened existence.
With an innovative format that includes interstitial documents, such as flyers, postcards, and handwritten notes, Away We Go is a funny, honest look at first love and tragic heartbreak.
 Daughters of Ruin by K.D Castner -April 5
Rhea, Cadis, Suki, and Iren have lived together since they were children. They are called sisters. They are not. They are called equals. They are not. They are princesses…and they are enemies.
Not long ago, a brutal war ravaged their kingdoms, and Rhea's father was the victor. As a gesture of peace, King Declan brought the daughters of his rivals to live under his protection—and his ever-watchful eye. For ten years the girls have trained together as diplomats and warriors, raised to accept their thrones and unite their kingdoms in peace.
But there is rarely peace among sisters. Sheltered Rhea was raised to rule everyone—including her "sisters"—but she's cracking under pressure. The charismatic Cadis is desperately trying to redeem her people from their actions during the war. Suki guards deep family secrets that isolate her, and quiet Iren's meekness is not what it seems.
All plans for peace are shattered when the palace is attacked. As their intended futures lie in ashes, Rhea, Cadis, Suki, and Iren must decide where their loyalties lie: to their nations, or to each other.
Girl in the Blue Coat by Monica Hesse – April 5
 An unforgettable story of bravery, grief, and love in impossible times

The missing girl is Jewish. I need you to find her before the Nazis do.
Amsterdam, 1943. Hanneke spends her days procuring and delivering sought-after black market goods to paying customers, her nights hiding the true nature of her work from her concerned parents, and every waking moment mourning her boyfriend, who was killed on the Dutch front lines when the Germans invaded. She likes to think of her illegal work as a small act of rebellion.
On a routine delivery, a client asks Hanneke for help. Expecting to hear that Mrs. Janssen wants meat or kerosene, Hanneke is shocked by the older woman's frantic plea to find a person–a Jewish teenager Mrs. Janssen had been hiding, who has vanished without a trace from a secret room. Hanneke initially wants nothing to do with such dangerous work, but is ultimately drawn into a web of mysteries and stunning revelations that lead her into the heart of the resistance, open her eyes to the horrors of the Nazi war machine, and compel her to take desperate action.
Did you already know about these beauties? If not, are you now adding them to your TBR? Look out for Part Two on Sunday.
Until next time, my fellow adventurers!