If you haven't seen Part One, click the link!
I still had a few more I wanted to mention, but didn't want to make the post too long yesterday. Here are more books that will be released this month that I added to my To-Be-Read list. Hopefully you'll find some new books to add to yours!
 Don't Get Caught by Kurt Dinan – April 1
10:00 tonight at the water tower. Tell no one. -Chaos Club
When Max receives a mysterious invite from the untraceable, epic prank-pulling Chaos Club, he has to ask: why him? After all, he's Mr. 2.5 GPA, Mr. No Social Life. He's Just Max. And his favorite heist movies have taught him this situation calls for Rule #4: Be suspicious. But it's also his one shot to leave Just Max in the dust…
Yeah, not so much. Max and four fellow students-who also received invites-are standing on the newly defaced water tower when campus security "catches" them. Definitely a setup. And this time, Max has had enough. It's time for Rule #7: Always get payback.
Let the prank war begin.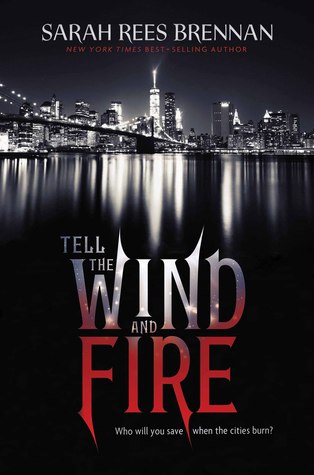 Tell the Wind and Fire by Sarah Rees Brennan – April 5
In a city divided between opulent luxury in the Light and fierce privations in the Dark, a determined young woman survives by guarding her secrets.
Lucie Manette was born in the Dark half of the city, but careful manipulations won her a home in the Light, celebrity status, and a rich, loving boyfriend. Now she just wants to keep her head down, but her boyfriend has a dark secret of his own—one involving an apparent stranger who is destitute and despised. Lucie alone knows the young men's deadly connection, and even as the knowledge leads her to make a grave mistake, she can trust no one with the truth.
Blood and secrets alike spill out when revolution erupts. With both halves of the city burning, and mercy nowhere to be found, can Lucie save either boy—or herself?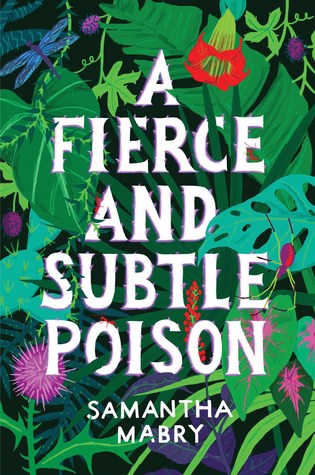 A Fierce and Subtle Poison by Samantha Mabry – April 12
Everyone knows the legends about the cursed girl–Isabel, the one the señoras whisper about. They say she has green skin and grass for hair, and she feeds on the poisonous plants that fill her family's Caribbean island garden. Some say she can grant wishes; some say her touch can kill.
Seventeen-year-old Lucas lives on the mainland most of the year but spends summers with his hotel-developer father in Puerto Rico. He's grown up hearing stories about the cursed girl, and he wants to believe in Isabel and her magic. When letters from Isabel begin mysteriously appearing in his room the same day his new girlfriend disappears, Lucas turns to Isabel for answers–and finds himself lured into her strange and enchanted world. But time is running out for the girl filled with poison, and the more entangled Lucas becomes with Isabel, the less certain he is of escaping with his own life.
 Original Fake by Kirstin Cronn-Mills & E. Eero Johnson – April 19
Introvert Frankie Neumann hates his life, and understandably so. He's got a weird, tutu-wearing sister, Lou, and even weirder parents, Bridget and Brett—Frank Sinatra and Dr. Frank-N-Furter impersonators, respectively. And, he's just the guy who makes pizza at Pizza Vendetta. Though he has secret artistic aspirations of his own, his over-the-top family makes him want to stay in the background. But Frankie's life is about to change—becoming way more interesting, even a little dangerous, but definitely cool.
After his shift at the pizzeria one night, Frankie meets David and Rory, cousins and errand runners for the mysterious Uncle Epic, a legendary anonymous street artist and Frankie's absolute idol. Little could Frankie dream that his new adventures with Uncle Epic would lead to the perfect opportunity to strike back at his insufferable sister for a lifetime of torture. But things go haywire quicker than you can say "street art kicks righteous ass," and the lines are suddenly blurred between art and Frankie's real life.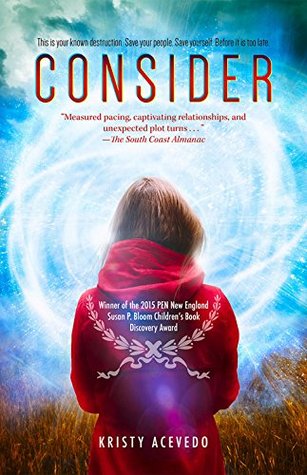 Consider by Kristy Acevedo – April 19
As if Alexandra Lucas' anxiety disorder isn't enough, mysterious holograms suddenly appear from the sky, heralding the end of the world. They bring an ultimatum: heed the warning and step through a portal-like vertex to safety, or stay and be destroyed by a comet they say is on a collision course with earth. How's that for senior year stress?
The holograms, claiming to be humans from the future, bring the promise of safety. But without the ability to verify their story, Alex is forced to consider what is best for her friends, her family, and herself.
To stay or to go. A decision must be made.
With the deadline of the holograms' prophecy fast approaching, Alex feels as though she is living on a ticking time bomb, until she discovers it is much, much worse.
Look at all these great stories releasing soon (or already out like Don't Get Caught)! Any of these interesting to you? Did you know of these books?
Until next time, my fellow adventurers!