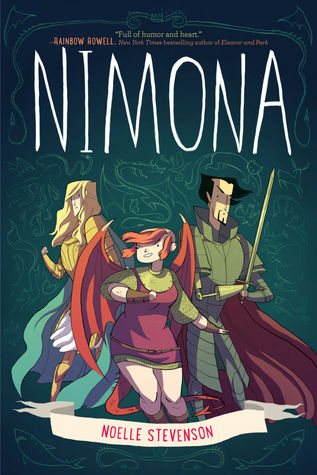 Publisher: Harper Collins
Published Date: May 2015
Genre: Graphic Novel, Young Adult, Fantasy
My Source: Library
Links: Goodreads
Review Also On: Amazon and Goodreads
Goodreads
The graphic novel debut from rising star Noelle Stevenson, based on her beloved and critically acclaimed web comic, which Slate awarded its Cartoonist Studio Prize, calling it "a deadpan epic."
Nemeses! Dragons! Science! Symbolism! All these and more await in this brilliantly subversive, sharply irreverent epic from Noelle Stevenson. Featuring an exclusive epilogue not seen in the web comic, along with bonus conceptual sketches and revised pages throughout, this gorgeous full-color graphic novel is perfect for the legions of fans of the web comic and is sure to win Noelle many new ones.

Nimona is an impulsive young shapeshifter with a knack for villainy. Lord Ballister Blackheart is a villain with a vendetta. As sidekick and supervillain, Nimona and Lord Blackheart are about to wreak some serious havoc. Their mission: prove to the kingdom that Sir Ambrosius Goldenloin and his buddies at the Institution of Law Enforcement and Heroics aren't the heroes everyone thinks they are.

But as small acts of mischief escalate into a vicious battle, Lord Blackheart realizes that Nimona's powers are as murky and mysterious as her past. And her unpredictable wild side might be more dangerous than he is willing to admit.
My Review
Characters
The characters were pretty interesting. Lord Ballister Blackheart is supposed to be the villian, but he's the one you, the reader, connect with more. Sir Ambrosius Goldenloin is the "hero" or knight in shiny armor, but he and Blackheart have an interesting past that calls into question his heroic nature. I liked Blackheart. His interactions with Nimona were funny to me. He was the voice of reason, and he didn't want to hurt people even though he was the villian. I was pretty neutral on Goldenloin.
Nimona…I went back and forth on her. At first, I was a little annoyed by her. She wanted to help/be Blackheart's partner, but she wanted to do her own thing. She followed her own set of rules and did what she wanted without thinking of the consequences. But then she began to grow on me. It was clear something happened in her past that made her act the way she did, as if she was on her own and could only trust herself. Still, there was something about her that just didn't work with me. I can't describe it though.
Plot
The "government and those on the 'good' side" are up to no good, and it's up to characters on the "bad" side to reveal the wrongdoings and save the day. I'm not against this type of story, but after finishing this graphic novel, I was more interested in Blackheart and Goldenloin's story than the overall plot.
I think I would have liked the overall plot more if it was drawn out. If this was a series. I'm not familiar with the web comic that this novel is based from, so I don't know if it was drawn out in the web comic and then shortened into a novel. I guess I was expecting something else with this story, based on the summary than what I received. It's not bad! Just not what I was expecting.
Overall, a quick fun read (graphic novels are faster, of course) but I found the subplot was carrying the story for me. I did enjoy the artwork. I thought it was very well done.
Rating: 3 / 5 STARS  ~ A good book. I will probably recommend this.