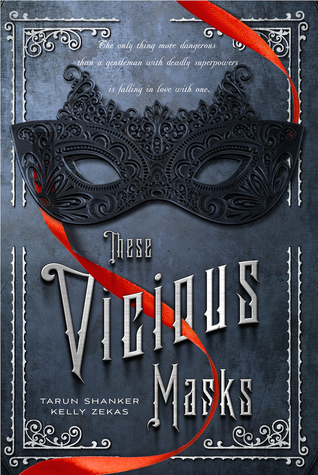 Publisher: Swoon Reads
Published Date: February 2016
Genre: Young Adult, Fantasy, Historical Fiction
My Source: Library
Links: Goodreads
Review Also On: Amazon and Goodreads
Goodreads
England, 1882. Evelyn is bored with society and its expectations. So when her beloved sister, Rose, mysteriously vanishes, she ignores her parents and travels to London to find her, accompanied by the dashing Mr. Kent. But they're not the only ones looking for Rose. The reclusive, young gentleman Sebastian Braddock is also searching for her, claiming that both sisters have special healing powers. Evelyn is convinced that Sebastian must be mad, until she discovers that his strange tales of extraordinary people are true—and that her sister is in graver danger than she feared.
My Review
Characters
Where do I start? I loved Evelyn. Loved loved loved. She had spark, gusto, whatever else you want to call it. She was an Elizabeth Bennett (I'm going to do a lot of Pride and Prejudice comparisons, so be prepared for those). Evelyn, while not being able to do a lot of things because she was a woman in the late 1800s, she was still able to get a lot done in her search for her sister. She wasn't helpless which made me so, so happy.
Mr. Kent, I was afraid about him. It was clear he was Mr. Wickham in this story, but turns out, not quite. I loved him too. He had so many lovely interactions with Evelyn. I just loved his voice and his personality. He calls himself a detective and at one point he has a Sherlock Holmes moment, giving this elaborate explanation on how he noticed so many things about this clerk. When Evelyn, shocked by his ability to do this, asks if he really noticed all of that, he goes "No, don't be absurd. It's not that complicated. I just appealed to his humanity," (58). It was at that moment I said, Yes, I love you. Please don't be a horrible person at the end.
And then we get to our Mr. Darcy: Mr. Sebastian Braddock. He was very standoffish at the beginning. But like his Pride and Prejudice counterpart, he had many secrets and reasons for his behavior. He wanted to protect Evelyn, like Mr. Kent, but he did it in a way that excluded her. She would leave her behind and try to do things on his own, which always lead to Evelyn sneaking off to do her own detective work.
I loved Braddock too. I just loved all the characters.
Plot 
Pride and Prejudice feel with a missing sister and magical abilities? Count me in! Ugh, I cannot express enough how much I loved this story. The magical abilities that certain people have in this story are great. There was a surprise person (no spoilers of course) who had a  power, and I was like YES! This person is awesome! The way these abilities work were interesting too. I also liked that there was not a perfect ability. Everything/everyone had a flaw.
Reading the different ways that Kent and Braddock went about searching for Rose, the tension between the two men. There is even a love triangle, and I'm not a huge fan of those, but in this story, it works. I like that it's not clear who Evelyn would pick, and I'm not sure who she should pick. Both men have their secrets, have their flaws.
And that ending! Very well done. Lots of actions, twists and turns. Just an overall, fabulous read.
Rating: 4.5 / 5 STARS  ~ Fantastic! Like, you don't understand how fantastic this was. READ IT.