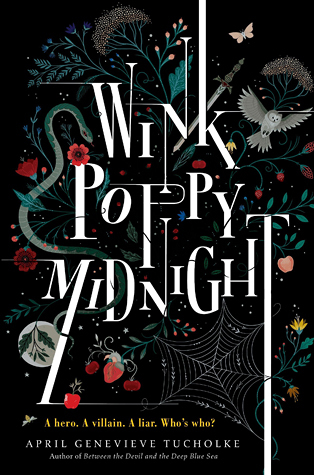 Publisher: Dial Books
Published Date: March 2016
Genre: Young Adult, Mystery, Contemporary
My Source: Library
Links: Goodreads
Review Also On: Amazon and Goodreads
Goodreads
Every story needs a hero.
Every story needs a villain.
Every story needs a secret.

Wink is the odd, mysterious neighbor girl, wild red hair and freckles. Poppy is the blond bully and the beautiful, manipulative high school queen bee. Midnight is the sweet, uncertain boy caught between them. Wink. Poppy. Midnight. Two girls. One boy. Three voices that burst onto the page in short, sharp, bewitching chapters, and spiral swiftly and inexorably toward something terrible or tricky or tremendous.

What really happened?
Someone knows.
Someone is lying.
My Review
Characters
What can I say about these characters? They are very much their descriptions. Wink is mysterious. The entire time I wasn't sure what she said was true, and what was a lie. I guess, when reading, you should think what does she think is true.
Poppy is cruel. From the stories others tell about her to the stories she tells about herself, she is a very mean girl. But does she have her reasons? Is there something else going on?
Midnight is the boy with his heart on his sleeve, and I think this causes him the most trouble. He shows his emotions too much, and it makes him vulnerable to others. But, is he the perfect hero?
Plot
I was hesitant reading this one. It was just so…bizarre. At the same time, I couldn't put it down. I wanted to know who was the villain, liar, and hero. Reading the summary, you could obviously put Midnight as the hero, Poppy as the villain, and Wink as the liar, but after reading this story, that's not the case. I'm trying to be very careful about not spoiling things, so I apologize if I seem vague.
Something big does happen, and these three characters are interlocking together so much, that it's hard to tell who is lying and who is telling the truth. The ending was a huge shock. I didn't see that coming, and I didn't see the relationships between certain characters.
I noticed someone on Goodreads asking if this was a love triangle. I'm going to say no. There is a lot of sexual references and moments in this story, so if that bothers you, you may not be happy with this story. However, it's not a love triangle like Throne of Glass or Hunger Games or other stories along those lines. The relationships between these three characters…there is no love.
Overall, a strange story that makes you want to keep reading. I'm not sure how I feel about the ending. I'm not sure if we were given an answer on who is the villain, hero, and liar. But then again, I think they're all of these things. Each of these characters are villains, heroes, and liars. It depends on who you're hearing the story from.
Rating: 3.5 / 5 STARS ~ A good book that has a nice YES factor to it.