I can't believe it's already June! This year is seriously flying by, and with each new month, there are more books to read. I've added a number of books that will be released this month, and I thought I'd share them with you. Links will send you to their Goodreads page.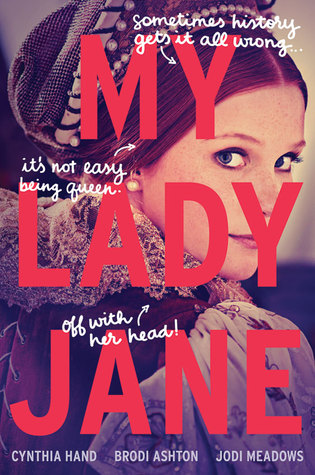 My Lady Jane by Cynthia Hand, Brodi Ashton, & Jodi Meadows – June 7
The comical, fantastical, romantical, (not) entirely true story of Lady Jane Grey. In My Lady Jane, coauthors Cynthia Hand, Brodi Ashton, and Jodi Meadows have created a one-of-a-kind fantasy in the tradition of The Princess Bride, featuring a reluctant king, an even more reluctant queen, a noble steed, and only a passing resemblance to actual history—because sometimes history needs a little help.
At sixteen, Lady Jane Grey is about to be married off to a stranger and caught up in a conspiracy to rob her cousin, King Edward, of his throne. But those trifling problems aren't for Jane to worry about. Jane gets to be Queen of England.
 The Marked Girl by Lindsey Klingele – June 7
Once upon a time, in a land far, far away (Los Angeles)…
When Cedric, crowned prince of Caelum, and his fellow royal friends (including his betrothed, Kat) find themselves stranded in modern-day L.A. via a magical portal and an evil traitor named Malquin, all they want to do is get home to Caelum—soon. Then they meet Liv, a filmmaker foster girl who just wants to get out of the system and on with her life. As she and Cedric bond, they'll discover that she's more connected to his world than they ever could've imagined…and that finding home is no easy task…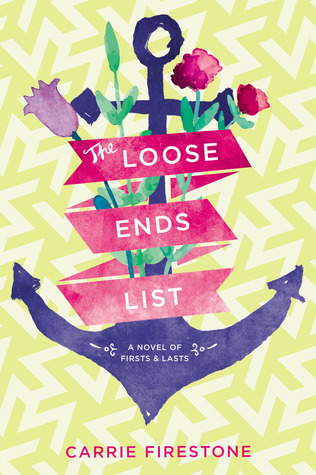 The Loose Ends List by Carrie Firestone – June 7
First loves. Last Wishes. Letting go.
Seventeen-year-old Maddie O'Neill Levine lives a charmed life, and is primed to spend the perfect pre-college summer with her best friends and young-at-heart socialite grandmother (also Maddie's closest confidante), tying up high school loose ends. Maddie's plans change the instant Gram announces that she is terminally ill and has booked the family on a secret "death with dignity" cruise ship so that she can leave the world in her own unconventional way – and give the O'Neill clan an unforgettable summer of dreams-come-true in the process.
Soon, Maddie is on the trip of a lifetime with her over-the-top family. As they travel the globe, Maddie bonds with other passengers and falls for Enzo, who is processing his own grief. But despite the laughter, headiness of first love, and excitement of glamorous destinations, Maddie knows she is on the brink of losing Gram. She struggles to find the strength to say good-bye in a whirlwind summer shaped by love, loss, and the power of forgiveness.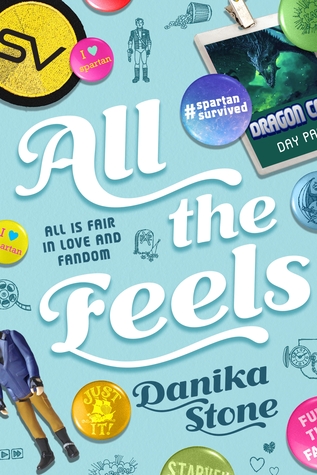 All the Feels by Danika Stone – June 7
College freshman Liv is more than just a fangirl: The Starveil movies are her life… So, when her favorite character, Captain Matt Spartan, is killed off at the end of the last movie, Liv Just. Can't. Deal.
Tired of sitting in her room sobbing, Liv decides to launch an online campaign to bring her beloved hero back to life. With the help of her best friend, Xander, actor and steampunk cosplayer extraordinaire, she creates #SpartanSurvived, a campaign to ignite the fandom. But as her online life succeeds beyond her wildest dreams, Liv is forced to balance that with the pressures of school, her mother's disapproval, and her (mostly nonexistent and entirely traumatic) romantic life. A trip to DragonCon with Xander might be exactly what she needs to figure out what she really wants.
 How It Ends by Catherine Lo – June 7
There are two sides to every story.
It's friends-at-first-sight for Jessie and Annie, proving the old adage that opposites attract. Shy, anxious Jessie would give anything to have Annie's beauty and confidence. And Annie thinks Jessie has the perfect life, with her close-knit family and killer grades. They're BFFs…until suddenly they're not.
Told through alternating points of view, How It Ends is a wildly fast but deeply moving read about a friendship in crisis. Set against a tumultuous sophomore year of bullying, boys and backstabbing, the novel shows what can happen when friends choose assumptions and fear over each other.
 The Way to Game the Walk of Shame by Jenn P. Nguyen – June 7
Taylor Simmons is screwed.
Things were hard enough when her single-minded dedication to her studies earned her the reputation of being an Ice Queen, but after getting drunk at a party and waking up next to bad boy surfer Evan McKinley, the entire school seems intent on tearing Taylor down with mockery and gossip.
Desperate to salvage her reputation, Taylor persuades Evan to pretend they're in a serious romantic relationship. After all, it's better to be the girl who tames the wild surfer than just another notch on his surfboard.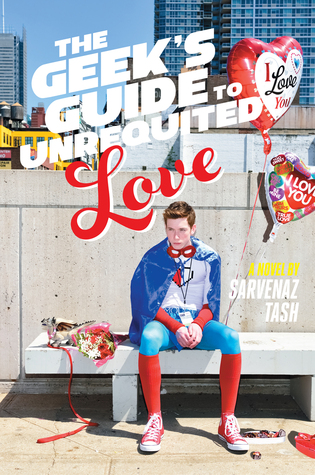 The Geek's Guide to Unrequited Love by Sarvenaz Tash – June 14
John Hughes meets Comic Con in this hilarious, unabashedly romantic, coming-of-age novel about a teenager who is trying to get his best friend to fall in love with him from the author ofThree Day Summer.
Peter Parker and Gwen Stacy…
Archie and Veronica…
Althena and Noth…
…Graham and Roxy?
Graham met his best friend, Roxana, when he moved into her neighborhood eight years ago, and she asked him which Hogwarts house he'd be sorted into. Graham has been in love with her ever since.
But now they're sixteen, still neighbors, still best friends. And Graham and Roxy share more than ever—moving on from their Harry Potter obsession to a serious love of comic books.
When Graham learns that the creator of their favorite comic, The Chronicles of Althena, is making a rare appearance at this year's New York Comic Con, he knows he must score tickets. And the event inspires Graham to come up with the perfect plan to tell Roxy how he really feels about her. He's got three days to woo his best friend at the coolest, kookiest con full of superheroes and supervillains. But no one at a comic book convention is who they appear to be…even Roxy. And Graham is starting to realize fictional love stories are way less complicated than real-life ones.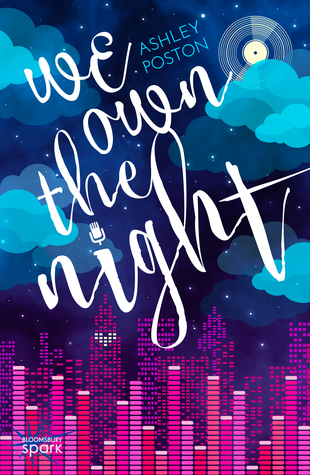 We Own the Night by Ashley Poston – June 28
"Happy midnight, my fellow Niteowls…"
As a candy store employee by day, and mysterious deejay "Niteowl" by night, eighteen-year-old Ingrid North is stuck between rock 'n roll and a hard place. She can't wait to get out of her tiny hometown of Steadfast, Nebraska (population three hundred and forty-seven) to chase her dreams, but small-town troubles keep getting in the way. She can't abandon her grandmother with Alzheimer's, or her best friend Micah–who she may or may not be in love with.
But for one hour each Saturday, she escapes all of that. On air, she isn't timid, ugly-sweater-wearing Ingrid North. She's the funny and daring Niteowl. Every boy's manic pixie dream girl. Fearless. And there is one caller in particular– Dark and Brooding–whose raspy laugh and snarky humor is just sexy enough to take her mind off Micah. Not that she's in love with Micah or anything. Cause she's not.
As her grandmother slips further away and Micah begins dating a Mean-Girls-worthy nightmare, Ingrid runs to the mysterious Dark and Brooding as a disembodied voice to lean on, only to fall down a rabbit hole of punk rockstars, tabloid headlines, and kisses that taste like bubble tea. But the man behind the voice could be surprising in all the right, and wrong, ways.
And she just might find that her real life begins when Niteowl goes off the air.
That's a lot of books coming out on the 7th. I'm going to be so poor. What books releasing this month are you excited about?
Until next time, my fellow adventurers!