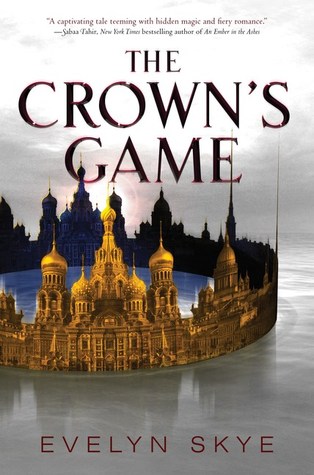 Publisher: Balzer + Bray
Published Date: May 2016
Genre: Young Adult, Fantasy, Historical Fiction, Romance
My Source: Library
Links: Goodreads
Review Also On: Amazon and Goodreads
Goodreads
Vika Andreyeva can summon the snow and turn ash into gold. Nikolai Karimov can see through walls and conjure bridges out of thin air. They are enchanters—the only two in Russia—and with the Ottoman Empire and the Kazakhs threatening, the Tsar needs a powerful enchanter by his side.

And so he initiates the Crown's Game, an ancient duel of magical skill—the greatest test an enchanter will ever know. The victor becomes the Imperial Enchanter and the Tsar's most respected adviser. The defeated is sentenced to death.

Raised on tiny Ovchinin Island her whole life, Vika is eager for the chance to show off her talent in the grand capital of Saint Petersburg. But can she kill another enchanter—even when his magic calls to her like nothing else ever has?

For Nikolai, an orphan, the Crown's Game is the chance of a lifetime. But his deadly opponent is a force to be reckoned with—beautiful, whip smart, imaginative—and he can't stop thinking about her.

And when Pasha, Nikolai's best friend and heir to the throne, also starts to fall for the mysterious enchantress, Nikolai must defeat the girl they both love… or be killed himself.

As long-buried secrets emerge, threatening the future of the empire, it becomes dangerously clear… the Crown's Game is not one to lose.
My Review
Characters
Ms. Evelyn Skye created some wonderful characters. I was hooked by Vika and Sergei (Vika's father and mentor) from the beginning. I was amused by Nikolai and Pasha the moment they were on the page. Yulianna (Pasha's younger sister) while appearing cold at times, was strong, strategic, and cared very much for her family. Galina (Nikolai's mentor) was…well, after my description of Yulianna, I feel like Galina was an older version of her. Colder and more strategic though.
I loved Vika, Nikolai, and Pasha. Their personalities, the backstories, their behaviors, everything made them pop from the pages. I wanted to learn more and more about them. I wanted to see more interactions between the three. Basically, I just wanted more.
Plot
I don't know if it's a coincidence or what, but I've been hearing more and more novels coming out that have similarities to The Night Circus. This is one of those novels. Both stories are about two enchanters/magicians, one male and one female, who are forced into a competition with the winner keeping their life. And as they compete without personal interactions, they fall in love.
Now, that's where the similarities end. First, in The Crown's Game, the setting is St. Petersburg, and I just have to say the descriptions in this book are absolutely amazing. I was really drawn into Russia by its beauty and the author's wonderful language. Second, they're forced not by the mentors like in The Night Circus, but by the Tsar of Russia. For there can only be one enchanter, and the winner will be at the side of the Tsar as his adviser. Third, but definitely not the last, this is a love triangle (Yes, you can argue The Night Circus had a love triangle, but in my opinion, it really doesn't).
The Crown's Game is its on story, and more violent as well. Vika and Nikolai do attempt to kill each other during each phase of the competition. Each enchanter wants to keep their abilities and their involvement in the game secret from people they care deeply for, and this causes lots of trouble. There is also the mystery of a character named Aizhana who throws a number of twists into this story.
I was with this book from beginning to end, wondering who will be victorious. With the ending, I wasn't shocked. There were clues throughout the story that made me think certain things would happen, and they did. That doesn't mean it wasn't emotional though! There is one part of this story that threw me off. I wasn't expecting this in the way that it happened, and I haven't figured out if I like it or not.
Overall, an excellent read that I would recommend to everyone. The chapters are generally short, so it feels like a quick read, the characters are fantastic, the plot is suspenseful, and you're not going to want to put it down. I'll be waiting for the sequel.
4.5 STARS ~ Fantastic! Like, you don't understand how fantastic this was. READ IT.