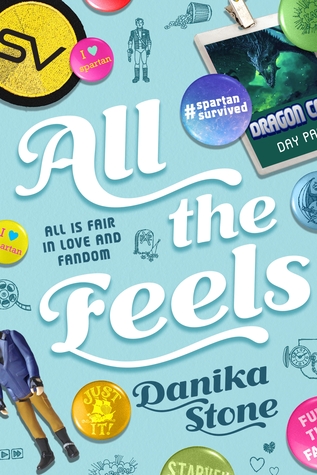 Publisher: Swoon Reads
Published Date: June 2016
Genre: Young Adult, Contemporary, Romance
Series: N/A
My Source: Library
Links: Goodreads
Review Also On: Amazon and Goodreads
Goodreads:
College freshman Liv is more than just a fangirl: The Starveil movies are her life… So, when her favorite character, Captain Matt Spartan, is killed off at the end of the last movie, Liv Just. Can't. Deal.

Tired of sitting in her room sobbing, Liv decides to launch an online campaign to bring her beloved hero back to life. With the help of her best friend, Xander, actor and steampunk cosplayer extraordinaire, she creates #SpartanSurvived, a campaign to ignite the fandom. But as her online life succeeds beyond her wildest dreams, Liv is forced to balance that with the pressures of school, her mother's disapproval, and her (mostly nonexistent and entirely traumatic) romantic life. A trip to DragonCon with Xander might be exactly what she needs to figure out what she really wants.
My Review
Characters
I was a little hesitant on Liv at the beginning. I know I can be an emotional fangirl, but I was worried, after her reaction once the Starveil movie was over, that she was going to be too dramatic for me. There were a few times (like the one I mentioned) that she got a little much for me, but overall I did like her. I was able to connect with Liv and her love for fandom. I especially connected with her when she went to DragonCon. Her initial thoughts once she arrived mirrored my own when I went to BookCon a little while ago for the first time.
Xander…I'm not sure what to say about him. He just seemed over the top. In a different way than Liv, and this was a negative for me. I wasn't sure how I felt about Xander's accent changing when his mood changed. He always called Liv "Dearest" and that didn't sit well with me either.
There were other characters like Arden, Xander's girlfriend. I sort of liked her and I felt bad for her. Hank, a love interest for Liv, was interesting. I didn't see that coming from him. Liv's online friends were great. I especially liked Brian. He was a riot.
Plot
Being a lover and member of many fandoms, I had to pick up this book. I could understand Liv's desperation to have her favorite character live (Honestly, I think the one I can compare her love of Spartan to is J.T. from Degrassi. I cried like a baby when he died, and I'm still not over it. J.T and Liberty 4ever!!). Reading about her connections with her online friends, fanfiction, making videos, and just talking about her love of fandom, it was a pure joy. I was excited to see her online campaign to bring Spartan back take flight with other fans.
The romance in this story was entertaining. Arden and Xander's plans of matchmaking for Liv were hilarious. The story with Hank was interesting too. Am I happy with where the romance eventually went in this story? Yes and no. Yes, because I wanted Liv to be happy. No, because it seemed too soon after certain circumstances.
There was one thing that I felt wasn't carried all the way through the book. Liv's relationship with her mom. They don't see eye to eye when it comes to Liv's love for Starveil, and it becomes very clear that her mother is against it. I didn't feel like this subplot was resolved. All of a sudden Liv is able to go to DragonCon, just out of the blue. I'm surprised her mother would allow her going somewhere her fandom love can explode and grow a thousand times over. And after everything with her campaign, how does her mother react? Does she really approve? I also thought the subplot with her mother's boyfriend was unresolved. I wasn't a fan of how he spoke to Liv and I didn't care for how the mother responded in these situations.
Overall, entertaining book. I was excited to read this and I wasn't disappointed.
Rating: 3.5 STARS ~ A good book that has a nice YES factor to it.