Hi my fellow adventurers! It's almost the near year. I was originally going to go back and do this week's Top Ten Tuesday (Best Books of 2016), but I saw a number of people participating in Jaime from Perpetual Page Turner's end of year survey, so I thought I'd join in. Because I didn't read as many books as I was hoping and because I noticed a lot of my answers were repeating books, I thought I'd do some of the questions.
2016 Reading Stats
Number Of Books You Read: 24/30
Number of Re-Reads: 0
Genre You Read The Most From: Young Adult-Fantasy
Best In Books
1. Best Book You Read In 2016? The Memory Book by Lara Avery
2. Book You Were Excited About & Thought You Were Going To Love More But Didn't? Harry Potter and the Cursed Child by J.K. Rowling
 3. Most surprising (in a good way or bad way) book you read? Wink Poppy and Midnight by April Genevieve Tucholke
 4. Book You "Pushed" The Most People To Read (And They Did)? The Night Circus by Erin Morgenstern (although, not sure if many people went and read it )

 5. Best series you started in 2016? Best Sequel of 2016? Best Series Ender of 2016?
Best series started: Monsters of Verity by Victoria Schwab (This Savage Song)
Best Sequel: Glass Sword by Victoria Aveyard (Red Queen series)
Series Ender: N/A
 6. Favorite new author you discovered in 2016? Victoria Schwab
7. Best book from a genre you don't typically read/was out of your comfort zone? Storm Front by Jim Butcher (crime/mystery type genre)
 8. Most action-packed/thrilling/unputdownable book of the year? This Savage Song
 9. Book You Read In 2016 That You Are Most Likely To Re-Read Next Year? Truthwitch by Susan Dennard
10. Favorite cover of a book you read in 2016?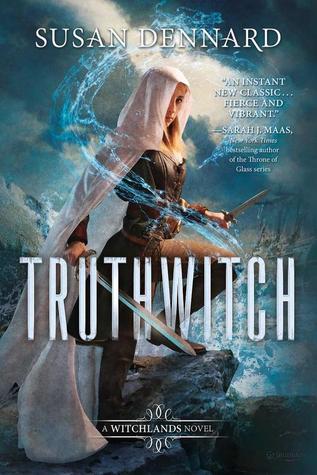 11. Most memorable character of 2016? Sammie McCoy from The Memory Book
12. Most beautifully written book read in 2016? The Memory Book
13. Most Thought-Provoking/ Life-Changing Book of 2016? The Memory Book (You can tell I loved this book, right?)
14.Shortest & Longest Book You Read In 2016?
Shortest: Been Here All Along by Sandy Hall
Longest: Passenger by Alexandra Bracken
15. Best Book You Read In 2016 That You Read Based SOLELY On A Recommendation From Somebody Else/Peer Pressure: Storm Front by Jim Butcher
16. Most Vivid Setting You Read This Year? The Crown's Game by Evelyn Skye
Your Blogging/Bookish Life
1. New favorite book blog you discovered in 2016? Fiction Fare
2. Best event that you participated in (author signings, festivals, virtual events, memes, etc.)? Book Con!
3. Best moment of bookish/blogging life in 2016? Getting to meet Leigh Bardugo, twice!
4. Most challenging thing about blogging or your reading life this year? Having a set schedule and not losing steam halfway through the year.
5. Most Popular Post This Year On Your Blog (whether it be by comments or views)? My spine poetry for the Love-A-Thon event.
6. Best bookish discover (book related sites, book stores, etc.)? Bookoulet, Bookbub, and the emails from Goodreads about ebook deals.
Looking Ahead
1. One Book You Didn't Get To In 2016 But Will Be Your Number 1 Priority in 2017? Crooked Kingdom by Leigh Bardugo
2. Book You Are Most Anticipating For 2017 (non-debut)? History Is All You Left Me by Adam Silvera
3. 2017 Debut You Are Most Anticipating? Caraval by Stephanie Garber
4. Series Ending/A Sequel You Are Most Anticipating in 2017? King's Cage by Victoria Aveyard (Red Queen #3)
5. One Thing You Hope To Accomplish Or Do In Your Reading/Blogging Life In 2017? Have a better schedule and keeping my reading goals.
That's all I have folks. Link me to your end of year surveys and posts so I can check them out. And I wish you all I wonderful Happy New Year!
Until next time.