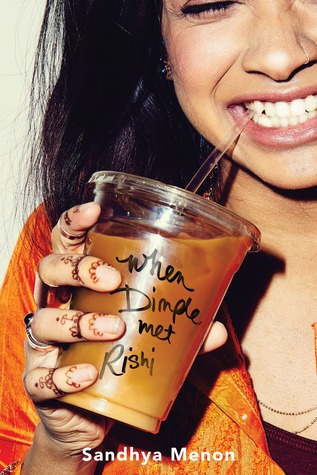 Publisher: Simon Pulse
Published Date: May 2017
Genre: YA, Contemporary, Romance, Young Adult
Series: N/A
My Source: Library
Links: Goodreads
Review Also On: Goodreads and Amazon
Dimple Shah has it all figured out. With graduation behind her, she's more than ready for a break from her family, from Mamma's inexplicable obsession with her finding the "Ideal Indian Husband." Ugh. Dimple knows they must respect her principles on some level, though. If they truly believed she needed a husband right now, they wouldn't have paid for her to attend a summer program for aspiring web developers…right?

Rishi Patel is a hopeless romantic. So when his parents tell him that his future wife will be attending the same summer program as him—wherein he'll have to woo her—he's totally on board. Because as silly as it sounds to most people in his life, Rishi wants to be arranged, believes in the power of tradition, stability, and being a part of something much bigger than himself.

The Shahs and Patels didn't mean to start turning the wheels on this "suggested arrangement" so early in their children's lives, but when they noticed them both gravitate toward the same summer program, they figured, Why not?

Dimple and Rishi may think they have each other figured out. But when opposites clash, love works hard to prove itself in the most unexpected ways.
My Review
I had this book on hold from my library the minute I was able to. This book was a sweet and cute romance that I would be happy to recommend to everyone. Dimple was great. I loved that she was focused on her career, on her future, but was also able to open up to other possibilities and people. Rishi was just a sweetheart. I was rooting for him to win Dimple's heart from the beginning.
The "side-plots" were really good. I liked that Dimple, while not liking her roommate Celia's new friends, she was willing to try for her sake. When that didn't work, Dimple and Celia were able to realize they could still be friends without having the same friends. And, without spoiling too much I hope, when the chaos happened near the end of the book, I'm glad that Dimple was there for her.
The romance between Dimple and Rishi was cute. Knowing they were only there for 6 weeks and already were feeling love for one another, I don't know if that works for me, but I was willing to look past it. This was definitely a hate-to-love type of story, so if you like those, you'll like this one.
What I enjoyed the most was that we were able to see a few different views on arranged marriages. We got Dimple who was completely against it for a number of reasons, Rishi who liked tradition and wanted to make his parents proud, Dimple's female family members who saw it as a great opportunity for Dimple, and even Celia who saw it as super romantic.
When Dimple Met Rishi is a great romance and coming-of-age story. Both main characters have their inner conflicts of wanting independence, love, acceptance from their family, and passion for what they wanted and believed in. You're not going to want to put this book down once you get started.
Rating: 4 STARS ~ Oh man, this was a great book. Will be recommending.